HAT TRICK is an acoustic jazz trio consisting of two acoustic-electric guitarists and a bassist. The group performs contemporary and traditional jazz, as well as classical music and rock/popular standards. The trio's unique "unplugged" sound appeals not only to the active listener, but also to the patron who wishes to merely relax and enjoy quality live music.
HAT TRICK'S repertoire appeals to a wide audience. Besides the trio format, solo, duo, and quartet configurations are also available. In fact, the group can provide classical music and contemporary jazz at the same event!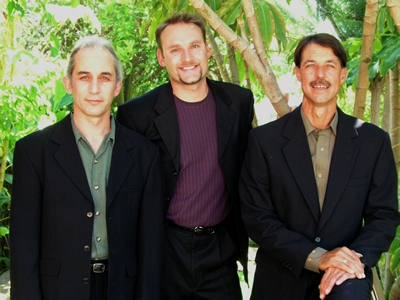 Mark Bacilla
Chris Cardle
Mark Madruga
HAT TRICK specializes in corporate events and has provided music for such notable clients as AT&T, BMW of America, Ford Motor Co., Cox Communications, Lexus, Microsoft, Motorola, The NFL, Seagrams, SmithBarney, Sunkist, and Sun Microsystems to name a few.
For additional information concerning HAT TRICK, the group's availability and/or pricing, please contact Mark Madruga at (619) 583-2814 or email us at hattrick@hattricktrio.com