Hat trick was created in 1995 when Chris Cardle and Mark Madruga got together and decided to create a guitar trio that could perform jazz and pop tunes in the popular 'unplugged' style. The group was designed from the beginning to provide ambient music that was perfectly tailored for corporate banquets and receptions. Shortly after it's creation Hat Trick was invited to be the resident band for the then new 'Aviara' Four Seasons resort in Carlsbad CA.
Since then Hat trick has performed at many such venues including Loews Resort, Sheraton Harbour Island, Hilton La Jolla Torrey Pines, La Costa Resort, St Regis Monarch at Dana Point and the Rancho Bernardo Inn. Other notable locations include Stephen Birch Aquarium, Ruben H. Fleet Science Center and the San Diego Natural History Museum, plus many trips around San Diego Bay aboard Hornblower Cruises.
Hat trick's delighted clients now include distinguished companys such as BMW of North America, Lexus and Ford Motor Company, AT&T, the National Football League and many more.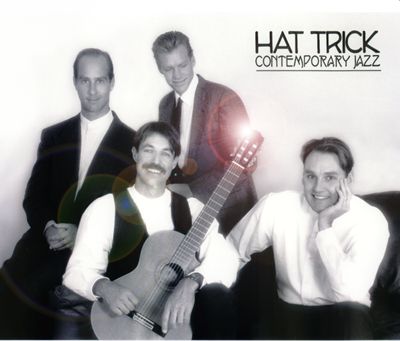 Back Row: Dave Hayes, the original third member of Hat Trick. Micheal Hahn, our percussionist.
Front Row: Mark Madruga. Chris Cardle.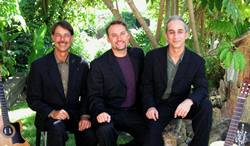 Hat Trick Now:Mark Madruga, Chris Cardle, and Mark Bacilla