Composer/guitarist Mark Bacilla began playing at the age of ten and began studying music in his teens. Early influences include the classical music of India, American blues and R & B, Baroque transcriptions for the guitar, and Brazilian bossa nova. He began composing rock songs and a few preliminary jazz ideas while in high school.
Mark met keyboardist Andy Myers near the end of high school and they began playing in various rock bands and composing together. These bands became increasingly eclectic and outside the mainstream as the players studied music in college and began to build a set of original songs.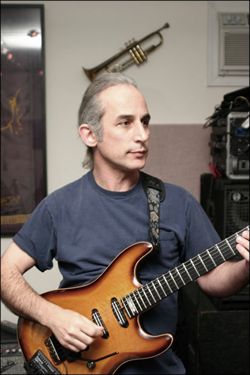 While Mark was still working on his B.A. in music, the first band completely dedicated to playing original music was formed. At this point, Mark and his bandmates were fortunate enough to hook up with a recording school. It was here that Mark and the other members of the group that would later be called Speed Of Sound had the opportunity to record more than thirty of his songs before recording and releasing the eponymous Speed Of Sound album. Seeds of Mark's mature writing can be heard in the track Tundra, the title of which would become the band's independent record label.
Mark went on to graduate school at San Diego Sate University, where he had the opportunity to study composition and music theory with composer David Ward-Steinman. At this point, Mark's music began to reflect his investigations into the music of modern composers as well as world music. Shortly after completing his M.A. in musicology, the band released the CD Make No Mistake. Oddly, the title track didn't appear on this album, but would eventually appear on the group's fourth project. This album, which received significant airplay on radio stations across the US, represents a consistent sound that can be heard on the ensuing Picture This and the recent release So Inclined.